Bridgend based Activ People HR is marking St David's Day with the launch of a Welsh version of its Activ People HR Software.
This is the 10th language version of its suite of flexible online HR solutions and the company wants to support Welsh businesses and enable their staff to use the technology in their preferred or native language.
Research last year by language app Preply predicts the number of Welsh language speakers to increase by 32% by 2050[i] to reach 1,168,115. This follows a Welsh Government strategy which aims to see the number of people able to enjoy speaking and using Welsh reach a million by 2050[ii].
At the start of 2021 there were 207,000 private sector businesses in Wales[iii]. A new report this year also highlights that the Welsh Government's business support arm, Business Wales[iv], has helped more than 750 entrepreneurs to start a business or become self-employed during the Coronavirus pandemic.
Activ People HR's cloud-based HR technology can help businesses in their recovery from the challenges of the pandemic, including managing absenteeism, the move towards hybrid working, supporting staff wellbeing as well as addressing recruitment and retention issues at a time when many firms are seeing skills shortages.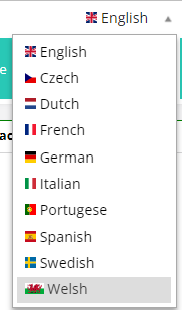 Embracing digital technology to track absence, record holiday leave, manage flexible and remote working and ensure performance reviews and appraisals happen even if people are working remotely, can dramatically reduce HR administration overheads and move businesses into the 21st century and away from paper-based processes.
Adrian Lewis from Activ People HR says, "Activ People HR is now used by HR teams in over 50 countries to digitise their HR processes and improve efficiency, accuracy and reporting. We wanted to add the Welsh language to meet demand from companies keen to support Welsh speakers in their organisation.

"As a HR software provider that offers solutions to make the day to day role of the HR team easier it made perfect sense to us to offer a Welsh language version. Now Welsh businesses have the choice to use the software suite in their native language and support the growing trend to preserve the Welsh language."
For more information on Active People HR visit: www.activpeoplehr.co.uk.
[i] https://businessnewswales.com/welsh-speakers-will-increase-32-by-2050/
[ii] https://senedd.wales/Laid%20Documents/GEN-LD11108/GEN-LD11108-e.pdf
[iii] https://www.gov.uk/government/statistics/business-population-estimates-2021/business-population-estimates-for-the-uk-and-regions-2021-statistical-release-html
[iv] https://www.business-live.co.uk/economic-development/business-wales-boosts-welsh-economy-22855684